15 years ago Hassan Khan (Prisoner Number: A1187AK) was convicted of robbery and got a "two strikes" sentence – a mandatory life sentence for people convicted of a second serious sexual or violent offense. This sentence carried a 4 year 166 days minimum tariff but he has been inside for 15 years.
He sued West Midlands Police, having been framed by them and was awarded £23,000 damages. Not long after winning this case he was set up a second time by a corrupt police officer who planted evidence on a crime scene setting him up for a robbery he didn't commit.
Hassan has a parole hearing coming up and is doing his best to comply with the prison system. However, he faces an impossible situation – his security file in his parole dossier, that will be used to make the decision to release him or not, is full of racist lies alleging he is connected to Muslim gangs, Isis, and dealing drugs and phones. There is no reason for these lies except his ethnic background and that he is a practising Muslim.
Hassan has no way of challenging their radialised accusations against him. He cannot progress through his sentence when coming up against the lies like this – especially in the current political climate. Hassan belongs with his family in north Wales. He wants to go and live with his friend who is in poor health and support him.
A close relative of Hassan's stated that:
"The system has never forgiven Hassan for exposing, through a landmark case, a corrupt West Midlands Serious Crime Squad as liars, falsifying statements and tampering with vital evidence. This eventually led to many innocent people, like the Birmingham 6 for example to be released. The 'brotherhood' within the judicial, legal and police system has never forgiven him for that."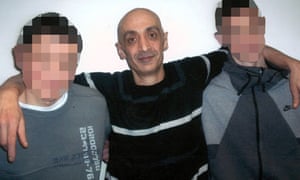 More about Hassan Khan
Hassan grew up in care in Birmingham and has a Pashtun Father and a Welsh Mother. He had a very troubled childhood with his problems with the law starting at 8 years old.
He has 4 grown up sons in north Wales and desperately wants to be part of their lives. His mental health has deteriorated to the point he wants to give up hope but he has kept his resolve and has undertaken several lengthy hunger strikes to protest about his situation. Hassan needs to be released immediately to a hostel or his friend's house in North Wales so that this 63 year old man can try and salvage his relationship with the children he has missed growing up due to the corruption of the racist West Midlands Police. This is our campaign goal.
Life in prison is taking its toll on Hassan – he has written an autobiography called "A Wasted life." which the IWW's Incarcerated Workers Organising Committee are hoping to publish as a booklet.
Articles in the Guardian outlining the way he was set up – twice.
'Framed' Hassan Khan fights for freedom all over again – June 2009
Sunglasses at centre of armed robbery investigation go missing – November 2010