IWOC supports the Kurdish Hunger Strikers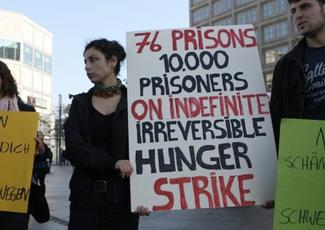 The Incarcerated Workers Organising Committee extends solidarity to the Kurdish hunger strikers, many of whom are incarcerated in Turkey.
Over the past months, thousands of Kurdish prisoners have gone on indefinite hunger strike, joined by Kurds across the world including many in the UK. Five people have already given their lives and many more have reached a critical stage of the hunger strike, nearing death. İmam Sis, a Kurdish resident of Newport, Wales, has been on hunger strike for over 120 days – widely believed to the the longest in British history.
Their demands are for the Kurdish leader Abdullah Ocalan to be taken out of isolation and have access to his lawyer and his family. A leading representative of the Kurdish people in their struggle against oppression and violence from the Turkish state, Ocalan has been imprisoned since 1999. He has been prevented from seeing his lawyers since 2011 and his family since 2016. This is in clear violation of international human rights standards, including those of the the anti-torture convention of the council of Europe (of which Turkey is a member). The hunger strikers' demands are far from radical – they are for the European Committee for the Prevention of Torture to do the job it was created for and uphold the commitments of its member states.
It is an international shame that the Kurdish people have had to take such drastic action, putting their lives in danger, to pressure the Turkish government to safeguard basic human rights and to bring this to public attention. It is a disgrace that the UK government supplies hundreds of millions of pounds worth of arms to the Turkish government, aiding its human rights violations.
The Kurdish political prisoners' hunger strike is part of a long tradition of prisoners taking collective action to protest their detention and improve their conditions. From the Suffragettes to Palestinian political prisoners, incarcerated people have organised to deny the legitimacy of systems of violence and injustice.
We extend this solidarity with the recognition that the practices of isolation and denial of legal rights to prisoners are not limited to Turkey. In the UK, hundreds of prisoners are segregated and many are held in conditions amounting to solitary confinement. Many are prevented from accessing adequate legal advice or from contact with their families, due to the cost of phone calls, the distance they are placed from their home and the restrictions of the prison regime. March 2019 marked the ninth anniversary of IWOC member Kevan Thakrar's solitary confinement in Close Supervision Centres (high security 'prisons within prisons'), where he is denied meaningful human contact and regularly confined to his cell for 23 hours per day. This is a shared struggle.
We call on people everywhere to support the Kurdish hunger strikers and to take action:
The Kurdistan Solidarity Network asks that you contact your MP to ask them to raise this issue with the Foreign Secretary and in Parliament.
Kurdish Solidarity Cymru call on you to support a boycott of tourism to Turkey. Tourism accounts for 11.6% of Turkey's economy, contributing $26 billion to their economy in 2017. This income helps fuel Turkey's war on the Kurds. There are also direct links between Turkish holiday and arms companies. Over 2 million people from the UK visited Turkey in 2018, making the UK one of the top 5 countries supporting Turkey's tourist income. We cannot rely on governments alone to pressure Turkey, attacking their economy through boycotts is an important part of the campaign.
On 4th May Kurdish Solidarity Cymru will be taking action to raise awareness of the hunger strike and to push the travel agent, Tui (formerly known as Thompson) to divest from the Turkish tourism industry. More information here.