Below is a letter from Nardein Murrihy, a prisoner that IWOC is supporting. Please note this letter could be triggering. To learn more about how you can support Nardein visit: https://iwoc.iww.org.uk/support-nardein/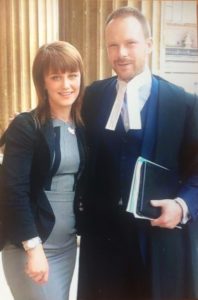 So I didn't have the best start to life being in and out of care. My mum placed me into social services at 12-13 as I started to get into trouble with the law. I was mentally and physically abused which made me an angry kid. I spent time in secure training centres, where I was further abused!
I then got charged with BGH with intent at 16 years old and that was my last conviction apart from the current one, which I committed at 22 years old. I suffer from PTSD, bipolar, depression and anxiety also CBT which was re-triggered when my uncle was on bail for abusing me. I would hear him talking to me, visualising him instead of the actual person in front of me suffering flashbacks. Then one night my friend had an altercation. When I went to split it up, the male punched me in the temple. I had a stanley blade on me stupidly for my own protection due to an earlier incident that occurred. I tried to walk away a few times. He was following me. I then just lost it as I pictured my uncle coming after me instead of the man. I ended up running after the man and hurting him.
To this day, I cannot remember this or the knife connecting with him. I was allowed a mental health report done but the Doctor just sat with me for 15 minutes and chuck a report together missing valid points out. He wasn't an independent psychiatrist and was annoyed with me that I made a complaint about him as he didn't feel interested in the report as he took long to complete and only when the judge summons him he actually completed it (In 15 minutes).
He didn't mention how many times I was admitted to hospital before coming into custody taking overdoses, trying to jump in front of a train. Not taking my meds but self-medicating with alcohol. No support from the victim liaison officer to with my uncle that was still on bail. I had no community psychiatrist, was on wrong medication, only when I came back into custody it was sorted.
Nobody could understand why I had no community psychiatrist, social worker etc, even though I had diagnosed mental health issues from a young age! None of this was mentioned in the report. Also, my uncle has now pleaded guilty to what he did to me and my sister which he is now serving a 10-year sentence for.
For my offence, I got 10 years EPP with 4 years extended license. The victim had stitches, there was no lasting damage or surgery. The beginning of the incident was missed on CCTV as the security guard only put it on once he saw the stanley knife. The victim even said it wasn't me, it was my friend who started it but she put it on me and where the start of the CCTV was missing, she got acquitted as she put it all on me! The victim didn't wait for the police or ambulance. When police rang him he gave a false address. Surely if he knew he didn't do anything he'd either wait for the police or go straight to the hospital. Then officers found an address on the system and found him there. He then went to the police station to be briefed – well now he saw the beginning of the incident was missing so concocted a story! Grr, it really winds me up, why would he lie about his address if he hadn't done anything or even gone to a damn hospital because of his injuries. Am I only the only one that can see he had something to hide (he assaulted me and wouldn't stop following me).
The judge said it was intent and I was a persistent offender. I hadn't been in trouble for 6 years! Also, if it was intent I am sure I would have gone and killed my uncle for abusing me like WTF! I had no intention of hurting this man, I just ended up losing it due to the voices and visualisations of my uncle.
Note – EPP stands for Extended Sentence for Public Protection, this was the reform of the IPP sentence, giving a determinate end (definite length) to an extended sentence.