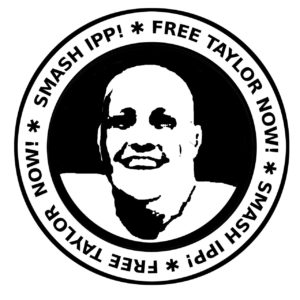 Taylor is a prisoner in England and member of the IWW. This page shares more info about him and how people can support him.
About Taylor
Taylor is a trans prisoner serving an IPP sentence. He has served over 10 years in prison and has been through all the abuses the prison system can subject someone to.
IPP (Imprisonment for Public Protection) is a type of sentencing that was introduced in 2005 and meant that people would be sentenced to an initial 'tariff' (minimum time that must be served) and, after that point, their release would be decided by the parole board. This means that IPP prisoners have NO definite release date.
IPP sentences were abolished in 2012, but not retrospectively, which means there are still more than 3500 people in prison with no release date who are effectively serving life sentences for minor crimes. Learn more about IPP sentences here: smashipp.noflag.org.uk
Taylor has asked IWOC to share his full story so people know what the prison system is like and work to resist transphobia, which has shaped his life and led to this sentence.
What you can do
Share the fundraiser on your networks, and organise fundraising events in solidarity. If you would like to host a talk about Taylor or the wider prison system or trans prisoners please contact us at iwoc@iww.org.uk
Write to Taylor! Receiving cards and letters in the post really helps to boost Taylor's mental health and well being and lets him know that people are thinking about him. Receiving post could also potentially support Taylor in his parole hearing as he can show that he has the support of people outside.
Taylor loves animals. He used to rescue dogs and especially loves staffies. He loves the ocean and grew up by the sea. He also loves tattoos and piercings. Please take five minutes of your time to write Taylor a card. You have no idea what this will mean to him. Write to:
Claire Taylor A7974AX
HMP Downview
Sutton Lane
Sutton
Surrey
SM2 5PD