White-washing Prison Labour- "Bike repair training scheme at women's prison aims to stop inmates getting stuck in crime cycle"
We already knew that Halfords profit from prison labor, from paying prisoners peanuts for sorting out nuts and bolts into small bags that they sell on to selling trailer bards manufactured in jails – they have been profiteering from human misery for a wile now. The below articles shows their attempt at whitewashing their actions in prisons and dressing up exploitation as charity. What isn't in the below article are the the low wages, the awful conditions and the fact that they are making a tidy sum from this.
Source: http://www.staffordshirenewsletter.co.uk/bike-repair-training-scheme-at-women-s-prison-aims-to-stop-inmates-getting-stuck-in-crime-cycle/story-30055382-detail/story.html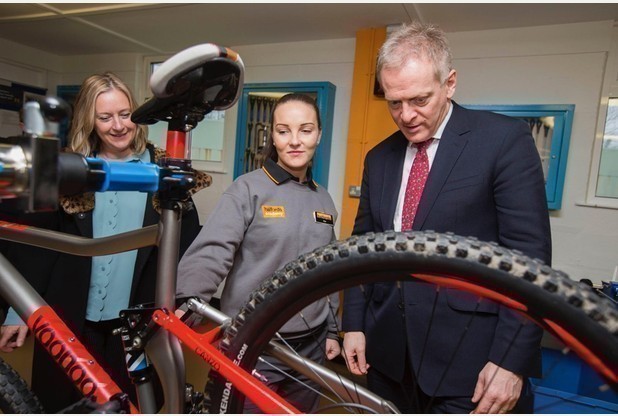 CYCLING retailer Halfords is offering inmates at a prison near Stafford a new path away from crime by launching a training centre behind bars.
The first Halfords Training Academy for female prisoners was opened at HMP Drake Hall yesterday by Justice Minister Dr Phillip Lee.
It will give inmates the chance to learn specialist bike repair and maintenance skills, as well as working on their customer service and interview techniques. Bringing employers into the prison will also help inmates get jobs on release.
A similar academy for male prisoners at Rugby's HMP Onley has already proved a success, with 28 inmates on the scheme going on to secure full-time employment.
Halfords Chief Executive Jill McDonald, who launched the workshop alongside Dr Lee, said: "We're very proud to launch the second Halfords Academy at Drake Hall and excited at the prospect of helping to tackle reoffending whilst also producing highly skilled colleagues.
"Businesses supporting rehabilitation makes perfect sense, as it increases the talent pool, lowers the cost of reoffending and contributes to safer communities. The more productive people are whilst in prison, the more they can learn and the better their chances of succeeding once they leave.
"Ultimately, our success at Onley is owed to our brilliant team there that have shown a huge amount of commitment to making this project a success. It is their enthusiasm, openness and drive to succeed that has led us to extending the Halfords rehabilitation programme to Drake Hall."
The new Academy is part of the Government's wider commitment to making prisons places of hard work, self-discipline and reform.
It follows the launch of the White Paper on safety and reform in November last year, which announced 2,500 new prison officers, plans to open five new community prisons for women and an additional £100 million investment – with new measures to get offenders off drugs and provide them with the education and skills they need to turn their backs on crime for good.
Dr Lee said: "I am delighted to be opening the Halfords Training Academy at HMP Drake Hall.
"This is an excellent scheme which gives women the vocational skills and education they need in preparation for release. It will give them a new start – helping to reduce reoffending and turn their backs on crime.
"We are committed to helping all offenders turn their lives around so they don't get stuck in the cycle of crime. We want to see offenders entering the workplace and making a success of their lives."