Second Letter from Nardein
Below is a letter from Nardein Murrihy, a prisoner that IWOC is supporting. Please note this letter could be triggering. To learn more about how you can support Nardein visit: https://iwoc.iww.org.uk/support-nardein/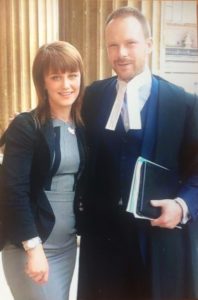 When you look at me, I am always well presented, but just because I keep myself well groomed and clean doesn't mean I don't have insecurities. Yes I look ok on the outside by inside I am crumbled. I have asked for help with my underlying issues until I exhausted all avenues. I was under CAMMS when I was younger, for my abuse and my anger which was caused by my abuse. I put my trust in people who were supposed to help me but they just abused their positions and just damaged me further. I asked for help from my GP but as I looked ok on the outside he abruptly informed me that he could only spend 8 minutes with me, basically his attitude lacked professionalism and he made an observation about me just by my appearance.
Due to previous childhood trauma I found it very difficult to put my trust into anyone in authority. This only got worse when I was having sessions with a Senior Officer at Medway Secure Training Centre as he also took advantage of his position, as we engaged in a relationship he made me feel it was ok as he had feelings for me. It was only when speaking to a friend that I was made to see he had taken advantaged of my vulnerability. I was advised to report him, but I already reported my uncle and I felt that reporting this man also I would not be believed, as who would think this situation can happen to one person more than once and by different persons.
This just derailed me more and I started to drink heavily. That much that I'd drunk myself until I was unconscious, as who would believe me with my previous history. I have made mistakes within my life and I own all of what I have done, but these people who I thought should help me just abused me and my trust to the state where I'm thinking this must just be normal as I knew nothing else.
When I did finally confront my demos and was brave enough to tell someone about the broken trust of my Medway worker, I was made to feel that this was untrue – a figment of my imagination but it truly was not, this happened to me and this should not of happened. This man was in a position of trust and should of helped me not maintain a physical relationship with me. I was broken and he took advantage of the situation for his own sick satisfaction without considering the further imminent damage that he would cause. And to break me down further, having found the courage to report this man, it was all dropped due to lack of evidence and that it happened many years ago. This has all added to my underlying emotional and mental health issues and it seems everyone has a hidden agenda. I just know that if I would have had the correct specialist help I so desperately required, I wouldn't be sat in jail as another lost soul in the system.
I don't want tea and sympathy. I just need people to understand I'm not a bad person. I'm too caring, hence my previous abuse, groomed if you like but made to feel it was right well it isn't right. It's lawfully wrong, I was wronged. Just because I look ok doesn't mean I'm ok mentally and emotionally but all round I'm a good girl. I try and help others and I just need that one chance to prove that I am . I need the relevant services to recognise their mistakes so that other young people don't experience what I have and can get the correct support and advice so they don't get lost in the system as another statistic. We are not numbers, we are people who can offer the world a great thing. I know I can, and so can others. Thank you sincerely for taking the time to read my story and hope you can find it in your heat to help me even just a little and my promise to you is that I won't let you down or myself. I have a wealth of advice to help other young people in a similar position to myself and hopefully will be able to fulfill my dreams and maybe other young offenders fulfill their dreams!
Thank you.