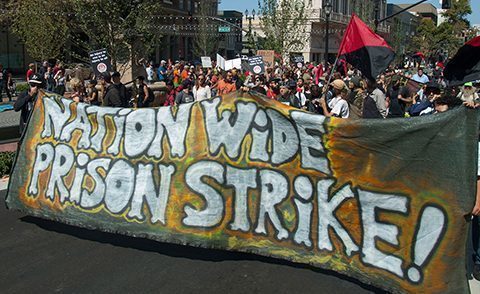 Prisoner Strikes and Supporter Protests Sweep the Nation
ATMORE, AL – Over the weekend more than 50 protests erupted across the
country and around the world in solidarity with the September 9th
nation-wide prisoner work stoppage and protest. Mothers and Families, the
outside support organization for the Free Alabama Movement (FAM) rallied
with drums and noisemakers outside of Holman Prison while workers kicked
off their strike inside. "Officers are performing all tasks" a prisoner
texted outside supporters indicating the prisoner work stoppage was
successful.
Although the full extent of facilities participating in the strike will not
be known for another two weeks, we have received early reports of work
stoppage and resistance from Holmes, Gulf and Mayo units in FL, Fluvanna
prison in Troy VA, and unnamed units in North Carolina and South Carolina.
Central California Women's Facility, Oregon State Penitentiary and St Cloud
Correctional Facility in Minnesota were on lockdown in response to
organizing on Friday. Hundreds of prisoners started fires, attacked
surveillance cameras and damaged the facilities at Kinross Correctional in
Northern Michigan and Holmes Correctional in Florida. No one was seriously
injured and prisoners are refusing to work.
There are confirmed hunger strikes underway in Wisconsin, Ohio, California
and Guantanamo Bay. At Merced County Jail in Central California family of
inmates have reported that the hunger strikers were threatened with
shotguns and dogs. In Ohio there are at least two prisons, Lucasville and
Ohio State Penitentiary, where prisoners went on hunger strike beginning
September 9th. Prisoners at both Ohio prisons have reported being
threatened with being stripped of their contact visits in retaliation for
going on strike. We stand in solidarity with prominent US Army whistle
blower Chelsea Manning, who initiated a hunger strike on September 9th to
protest lack of adequate medical care for trans prisoners.
In Greece and across the US, protests occurred outside of jail, prison and
immigrant detention centers. Three large banners were held up facing the
Southern Ohio Correctional Facility in Lucasville Ohio, the site of a
massive and deadly prisoner uprising in 1993. The Campaign to Fight Toxic
Prisons rallied outside Buckeye State Prison in Arizona, one of many
prisons where pollution and contaminated water harm prisoners.
US Embassy protests occurred in England, Australia, Sweden and Germany.
From Oregon to Florida and in between, companies profiting off prison were
targeted by outside protesters, including Bank of America, McDonalds,
Aramark, AT&T and Starbucks. In Lansing Michigan protesters blocked a
downtown intersection for hours with a large UHaul truck. In New York City
and Durham North Carolina they blocked freeways. In Portland OR protesters
disrupted an AT&T and McDonalds, both corporations which use prison labor,
as well as held a noise demonstration outside a local jail, then they shut
down traffic. There were arrests in: Oakland, CA; Milwaukee Wisconsin;
Nashville, Tennessee; and Atlanta, Georgia. Most were quickly released, but
at least three protesters in GA are facing multiple felonies.
*Additional Information*
Up-to-date list of institutions striking and solidarity actions here
<https://itsgoingdown.org/prisonstrike-resistance-to-slavery-across-the-world/>
Organizations Endorsing the Strike here
<https://supportprisonerresistance.noblogs.org/endorsements/>
*MEDIA AVAILABILITY: Prisoners, formerly incarcerated workers, family
members, and local activists are available for interviews with local and
national media. *