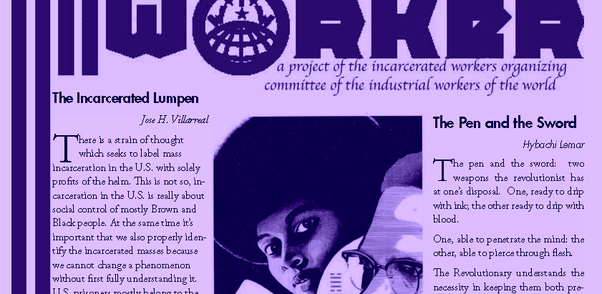 January 2016 Incarcerated Worker Newsletter
The latest issue of the Incarcerated Worekr from the US has just been produced. Contact us for printed copies to send to your friends & loved ones inside.

In This Issue:
– Artwork by Kevin "Rashid" Johnson
– A Change Has Got To Come – Mary Sue Shields
– The Incarcerated Lumpen – Jose H. Villarreal
– The Pen And The Sword – Hybachi Lemar
– WOMMB Institue Contribution – Anthony S. Gay
– Timeline of Recent Events
– Memorial to Hugo Pinell
– Revolutionary Greetings – Adui Ijini-Chaka Seko
– Artwork by Ronnie Ayling
– Class Consciousness and the Science of Unity for
– Modern Day Self Determinationist Struggle – Anthony S. Gay
The printable version is set up to print on two sides of several sheets of paper, print head to head, flip on the short edge of the paper, fold in half to form a booklet.
Click here for Issue 3, January 2016 (printable version)